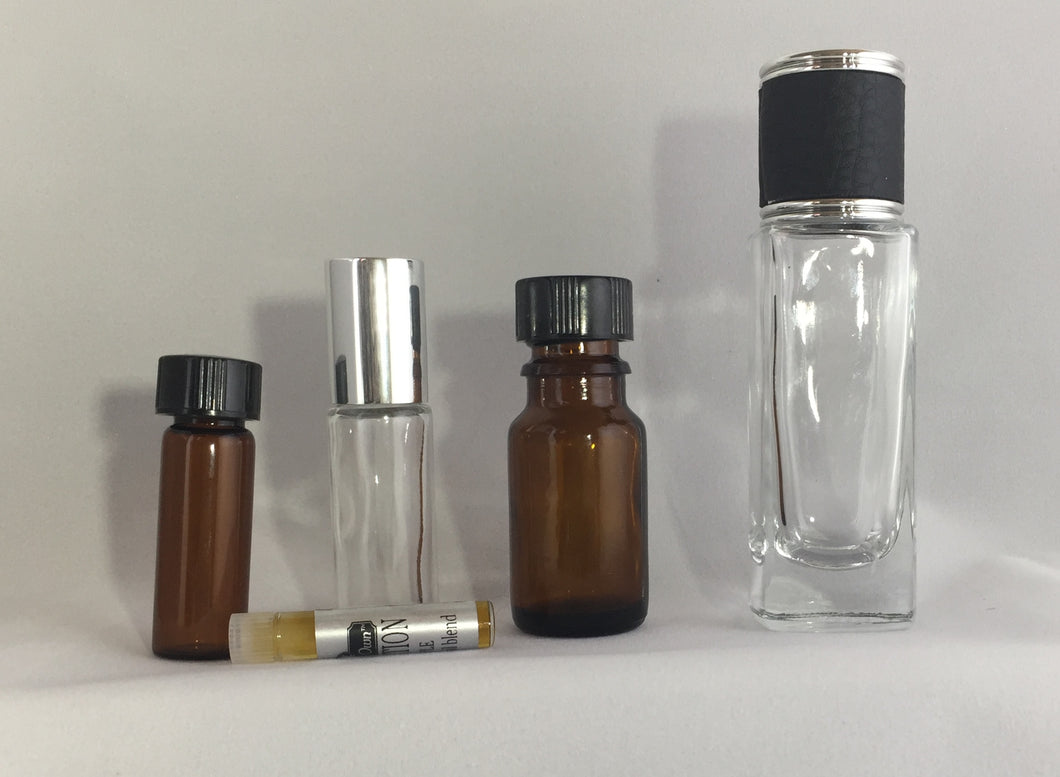 Aged Patchouli
Kamala's Own
Patchouli essential oil (Pogostemon cablin) grown in Indonesia
What is Patchouli anyway? A lot of people love it. A lot of people hate it. A lot of people think it's the only oil there is. A lot of people can't pronounce it (Patch-OO-lee). A lot of people say it reminds them of the sixties, or where they were during the sixties. Many people ascribe to it all sorts of mysterious powers; some of them true, some of them not. Whatever it is, Patchouli is one of the most popular essential oils in the world, so let's try to understand its true nature here.
Patchouli is a bush which is part of the Labiatae family. This is the botanical family from which many familiar cooking herbs come, like Basil and Peppermint. It prefers to grow in tropical climates like India and Indonesia. The leaves have been used for centuries in those countries as an insect repellent, as an ingredient in sachets, and as an incense. Europeans first became familiar with Patchouli during the Victorian era, when fashionable shawls came from India impregnated with Patchouli to keep the moths away. Thus was born a fragrance fashion which is still with us today.
Patchouli essential oil is a thickish, brown color and has what many describe as an earthy scent. It has the curious quality of improving with age, unlike most other essential oils. It is anti-fungal and anti-bacterial, and can be used to treat athlete's foot. It is also able to help regenerate skin cells, making it a healing agent for acne, dandruff, and cracked or chapped skin. It is antidepressant, and can be used for anxiety, stress, and nervousness. It is also good for wrinkled or weathered skin. Patchouli is often used as a fixative for other scents, as it intensifies them, and makes them last longer. Many people find that it acts as an aphrodisiac as well. Although Patchouli has a reputation as a deodorant, that is mostly because it covers up other scents.
Love it or hate it, Patchouli is a very useful oil. Beware though, as the price has been changeable over the past few years. Cheap Patchouli is often adulterated, diluted, or just plain synthetic. These fakes have none of the properties of the pure essential oil. Always make sure that the person you buy from can tell you both the Latin name of your oil as well as the country of origin of the oil. At Kamala's Own, we pride ourselves on the purity and quality of our oils.
DISCLAIMER: All information in this article is copyright Kamala's Own LLC. Please ask for permission to reprint it. This article is not medical advice. If you believe you are ill, consult an M.D. Nothing in this article is meant to diagnose, treat, prevent or cure any medical condition. Nothing in this article has been evaluated by the FDA. None of Kamala's products are intended for internal consumption.